Calendar of Events
No matter what the season, there is always something going on in the City of Blanco. Keeping our residents informed of scheduled events and local happenings is important.
Know of an upcoming event that we need to add? Give us a call or send us an email and we will be happy to add it for you.
---
Click here to view the 2023 Holiday Schedule.
Upcoming Events
Walk Across Texas!
Begins: 3/19/2023
Ends: 5/13/2023

PROGRAM DATE: MARCH 19- MAY 13, 202 3
LEAGUE CODE: WATL- 2 302 2 7 - 3603 5
REGI STER AT HOWDYHEALTH.TAMU.EDU
Texas Healey Roundup 42
Begins: 3/24/2023
Ends: 3/26/2023
The South Texas Healey Club is excited to be hosting the 2023 42nd Annual Texas Healey Roundup.
BHPC Regular Meeting
Begins: 3/27/2023 - 6:00 PM
Ends: 3/27/2023
City of Blanco's Trash-Off
Begins: 3/31/2023
Ends: 4/1/2023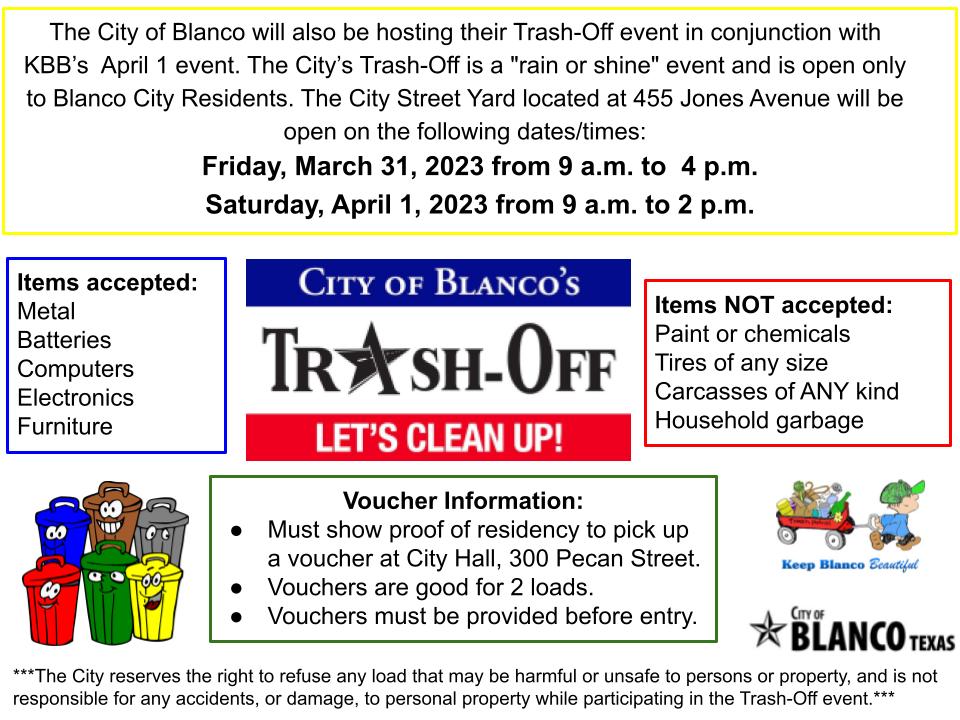 Keep Blanco Beautiful's 23rd Annual Don't Mess with Texas Trash-Off & 16th Annual Blanco River Cleanup event
Begins: 4/1/2023 - 9:00 AM
Ends: 4/1/2023 - 12:00 PM
Blanco Rodeo Association Play Date
Begins: 4/2/2023 - 8:00 AM
Ends: 4/2/2023
Spring Buckle Series on the First Sunday of the month.
Additional information can be found at www.blancorodeo.com.
P&Z Regular Meeting
Begins: 4/3/2023 - 6:30 PM
Ends: 4/3/2023
City Closure
Begins: 4/7/2023 - 12:00 PM
Ends: 4/7/2023
The city offices will be closed at noon in observance of Good Friday. Offices will reopen on Monday, April 10.
City Council Regular Meeting
Begins: 4/11/2023 - 6:00 PM
Ends: 4/11/2023
HWY-281 Task Force Town Hall
Begins: 4/13/2023 - 6:00 PM
Ends: 4/20/2023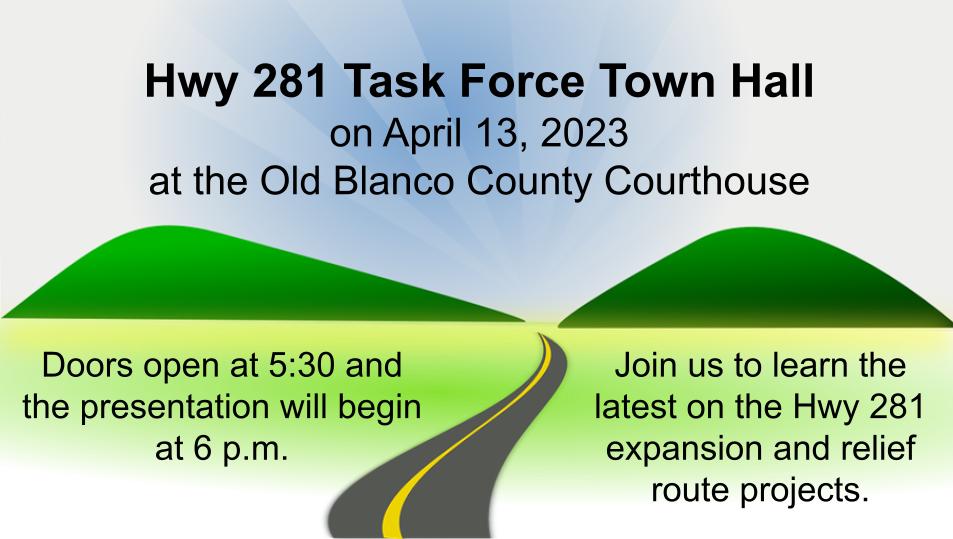 Blanco Market Day
Begins: 4/15/2023 - 9:00 AM
Ends: 4/15/2023 - 4:00 PM
Let's Yett: Music at the Park
Begins: 4/15/2023 - 5:00 PM
Ends: 4/15/2023 - 10:00 PM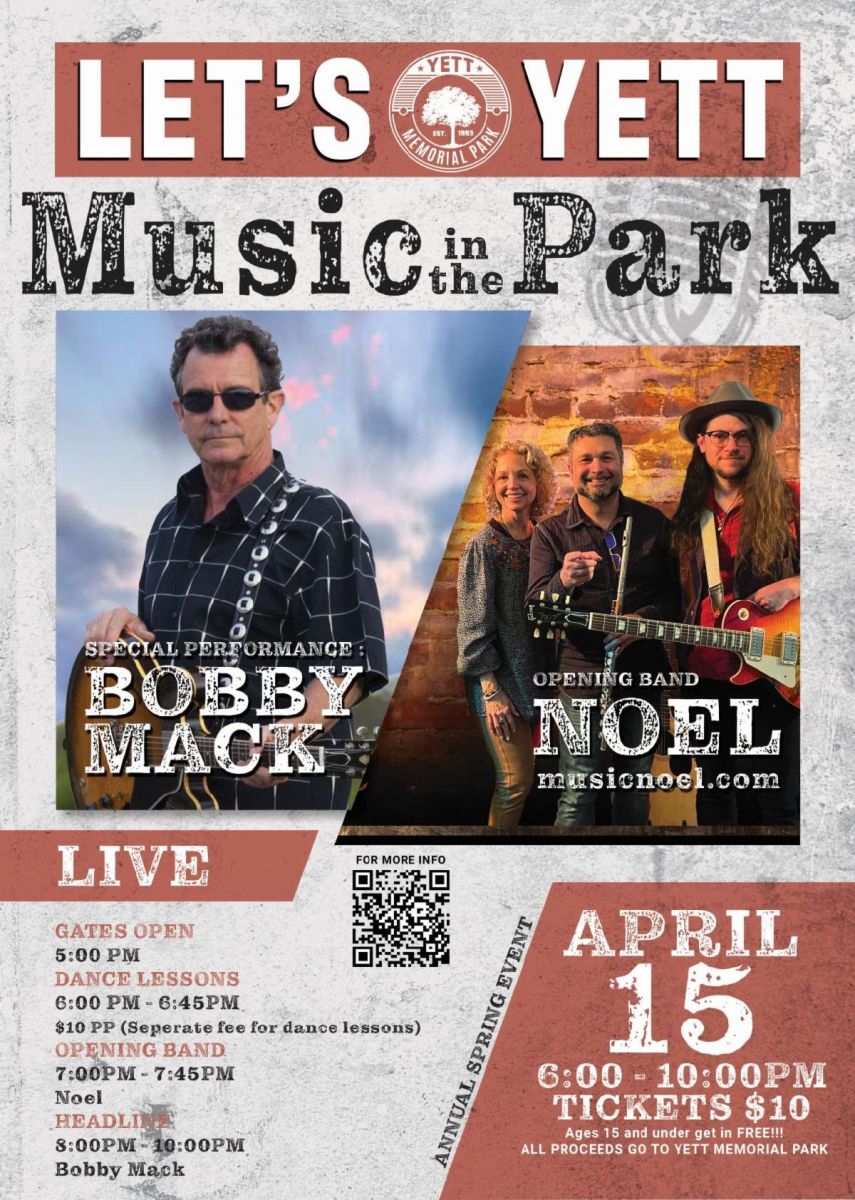 Real Ale Brewing Co. 27th Anniversary Party
Begins: 4/22/2023
Ends: 4/22/2023
BHPC Regular Meeting
Begins: 4/24/2023 - 6:00 PM
Ends: 4/24/2023
Early Voting
Begins: 4/24/2023
Ends: 5/2/2023
Early Voting Dates:
April 24-28, 2023
May 1-2, 2022
8 AM to 5 PM
---
One Mayor (2 year term)
Two City Council Members (At-Large) Seats (2 year term)
One City Council Member (At-Large) Seat (1 year term)
---
Early Voting Day Polling Place:
First Baptist Church - Fellowship Hall 1200 4th Street Blanco, Texas 78606
Blanco County South Annex 402 Blanco Ave Blanco, Texas 78606
Good Shepherd Catholic Church 285 281 Loop Johnson City, Texas 78636